Case Study.7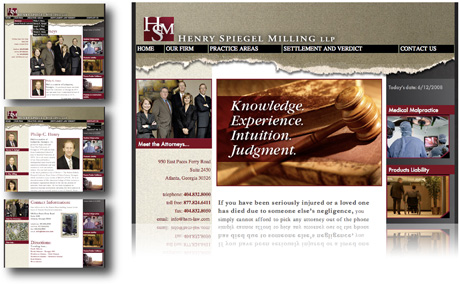 Four screenshots from the Henry Spiegel Milling LLP website: hsm-law.com
Henry Spiegel Milling LLP
An influential trial lawyer practice wanted a website that was not only professional, but was ranked at the top of search engines. We developed the site and helped optimize it so that when their key words hit the Internet, their firm was among the first on the page. By posting valuable information online such as Frequently Asked Questions, areas of practice and examples of case settlements, visitors to the site can easily decide if the firm is a good fit for them without any direct communication with the attorneys. In addition, iSquared handled the creation, coordinated the printing and managed the delivery of several of the law firm's direct mail pieces.
770-594-0999
1005 Riverside Trace, Sandy Springs, GA 30358
P. O. Box 1752, Edgewater, MD 21037-1752
e-mail: rustypaul@isquaredcommunications.com
campaign.09
Got a political race this year? | iSquared Communications blends all the tools of modern marketing with the proven campaign techniques used in high-budget national races to develop cost-effective, highly successful campaigns for Republican down ballot statewide, legislative and local races.
CAMPAIGN MANAGEMENT | VIEW CAMPAIGN PORTFOLIO
portfolio v5.0
Flash-based Portfolio 5.0 | Looking for a complete-services company to meet all of your marketing needs? Several recent examples from our graphic design department are available online. Adobe Flash Player required for viewing. A high-bandwidth connection preferable.
VIEW i2.portfoliov5.0 | DOWNLOAD FLASH PLAYER