Conserve Georgia
iSquared Communications was selected by the state to develop a brand that would bring its conservation programs under one umbrella. iSquared's team of professionals worked tirelessly to launch the Conserve Georgia campaign...
Continental Crushing & Conveying
The world leader in 21st century conveyor design and development, Continental Crushing & Conveying relies on the iSquared Communications team for its global trade and print advertising. Our art department has created ads for various publications around the world...
Tractor & Equipment Company
Tractor & Equipment Company just celebrated its 65th year and our principals have worked with its marketing team since 1959. That's what we call a long-term relationship...
Strategic Benefit Solutions
When Strategic Benefit Solutions planned its annual meeting entitled "Wellness - a Healthy Approach to Sustainable Cost Management," they called iSquared to help launch the event. To spread the word immediately to the targeted audience...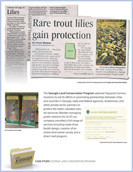 Georgia Land Conservation Program
The Georgia Land Conservation Program selected iSquared Communications to aid its efforts in promoting partnerships between cities and counties in Georgia, state and federal agencies, landowners, and other private sector partners to protect the state's valuable natural resources...
Hoover Materials & Handling Group
A market leader in bulk packaging design and manufacturing, Hoover Materials & Handling Group relied on iSquared Communications for its public relations, marketing, brochure development and advertising needs. Over the years...
Henry Spiegel Milling LLP
An influential trial lawyer practice wanted a website that was not only professional, but was ranked at the top of search engines. We developed the site and helped optimize it so that when their key words hit the Internet, their firm was among the rst on the page...
Grand Lyon Enterprises
Grand Lyon Enterprises created a new ketchup product called Grand Lyon Bordeaux Ketchup and Grand Lyon Zinfandel Ketchup. We created the marketing theme, "Break Open A Bottle of the Good Stuff!," the logos, packaging, point of sale, media ads, consumer coupons and other branding elements for the launch....
McRee Hall
McRee Hall, a quaint, historic bed & breakfast in a small Southern town, was looking for way to persuade customers to wander off the beaten path and give them a try. Why not the web? It is often the first place people go to plan their trips and events...
QAT
QAT is a systems integrator and custom software house that needed a new brochure which spoke to high-end CIOs and IT staff. It had to "speak the language" of the techies, but remain understandable by CEOs, CFOs and other non-technical types...
Casteel Heating & Cooling
After working with Casteel Heating & Cooling, Inc. to develop a successful direct mail campaign, iSquared Communications was the obvious choice to help take their advertising and marketing to the next level. The first step...
770-594-0999
1005 Riverside Trace, Sandy Springs, GA 30358
P. O. Box 1752, Edgewater, MD 21037-1752
e-mail: rustypaul@isquaredcommunications.com