Case Study.5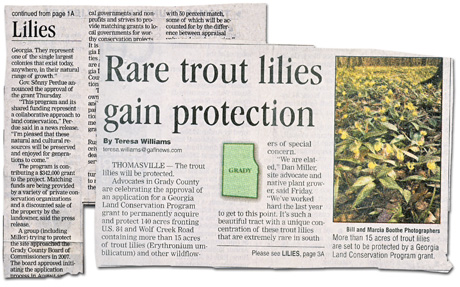 A sample article from the AJC raising awareness of the Georgia Land Conservation Program
Georgia Land Conservation Program
The Georgia Land Conservation Program selected iSquared Communications to aid its efforts in promoting partnerships between cities and counties in Georgia, state and federal agencies, landowners, and other private sector partners to protect the state's valuable natural resources. Besides managing public relations for GLCP, our company provided a full range of services including trade show booth design, creation of an online land owner survey and a direct mail program.
770-594-0999
1005 Riverside Trace, Sandy Springs, GA 30358
P. O. Box 1752, Edgewater, MD 21037-1752
e-mail: rustypaul@isquaredcommunications.com
campaign.09
Got a political race this year? | iSquared Communications blends all the tools of modern marketing with the proven campaign techniques used in high-budget national races to develop cost-effective, highly successful campaigns for Republican down ballot statewide, legislative and local races.
CAMPAIGN MANAGEMENT | VIEW CAMPAIGN PORTFOLIO
portfolio v5.0
Flash-based Portfolio 5.0 | Looking for a complete-services company to meet all of your marketing needs? Several recent examples from our graphic design department are available online. Adobe Flash Player required for viewing. A high-bandwidth connection preferable.
VIEW i2.portfoliov5.0 | DOWNLOAD FLASH PLAYER