Case Study.10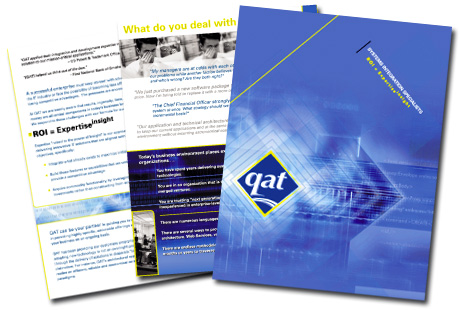 These images are from QAT's informational brochure
QAT
QAT is a systems integrator and custom software house that needed a new brochure which spoke to high-end CIOs and IT staff. It had to "speak the language" of the techies, but remain understandable by CEOs, CFOs and other non-technical types involved in enterprise level technology decisions. Working with QAT's marketing staff, we developed the copy and used stock photography to create a piece that achieved their objective.
770-594-0999
1005 Riverside Trace, Sandy Springs, GA 30358
P. O. Box 1752, Edgewater, MD 21037-1752
e-mail: rustypaul@isquaredcommunications.com
campaign.09
Got a political race this year? | iSquared Communications blends all the tools of modern marketing with the proven campaign techniques used in high-budget national races to develop cost-effective, highly successful campaigns for Republican down ballot statewide, legislative and local races.
CAMPAIGN MANAGEMENT | VIEW CAMPAIGN PORTFOLIO
portfolio v5.0
Flash-based Portfolio 5.0 | Looking for a complete-services company to meet all of your marketing needs? Several recent examples from our graphic design department are available online. Adobe Flash Player required for viewing. A high-bandwidth connection preferable.
VIEW i2.portfoliov5.0 | DOWNLOAD FLASH PLAYER