Website Development
---
Conserve Georgia
The Conserve Georgia website, the official internet portal for Georgia's conservation initiatives and programs, was launched to coincide with Governor Sonny Perdue's state-wide tour promoting conservation of our state's natural resources.
conservegeorgia.org | BACK TO TOP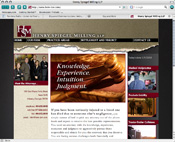 Henry Spiegel Milling LLP
An influential trial lawyer practice wanted a website that was not only professional, but was high on the search engines. We developed the site and helped them optimize it so that when their key words hit the Internet, they were always upfront.
hsm-law.com | BACK TO TOP
Tractor & Equipment Company
Jeff Roberts, the company's marketing director, wrote in an email: "Jim Waitzman (their CEO) is raving about our TEC website. He loves it. He asked me who is responsible for it." The redesign of their current, outdated website was a huge success.
tractor-equipment.com | BACK TO TOP
McRee Hall
A quaint, historic bed & breakfast in a small Southern town was looking for way to persuade customers to wander off the beaten path and give them a try. Why not the web? It is often the first place people go to plan their trips and events.
mcreehall.com | BACK TO TOP
PhotoWorks
Bob Dillen is professional photographer who wanted to showcase his talents in the best possible way. He works with dozens of agencies, including some of the industry's most talented art directors and designers.
bobdillen.com | BACK TO TOP
International Security Solutions, Inc. (ISSI)
This website was designed for International Security Solutions, Inc. - a high quality and full-service security consulting, planning, and program management corporation in the Metro-Atlanta region.
issisecuritysolutions.com | BACK TO TOP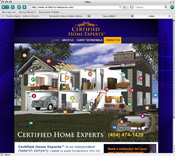 Certified Home Experts
Certified Home Experts™ came to iSquared in need of a website that featured an interactive house plan that assists homeowners with the selection and hiring of quality home improvement contractors in teir respective area.
certifiedhomeexperts.com | BACK TO TOP
North Fulton Republican Women's Club
The NFRWC was formed in 1964 and has actively participated in shaping grassroot politics ever since. In 2007, the NFRWC came to iSquared to establish the club's web presence and bring the organization into the 21st century.
nfrwc.org | BACK TO TOP