Case Study.11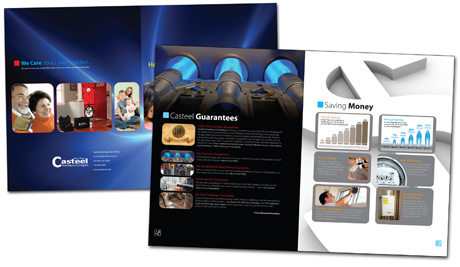 These images (above and along the left side of the page) are from Casteel Heating & Cooling's corporate brochure
Casteel Heating & Cooling, Inc.
A screenshot from Casteel's website
After working with Casteel Heating & Cooling, Inc. to develop a successful direct mail campaign, iSquared Communications was the obvious choice to help take their advertising and marketing to the next level. The first step was to create a new corporate brochure to replace the outdated materials that were presented to potential customers. iSquared's art department designed a 20-page booklet with a diecut for business card placement and a pocket folder for additional collateral. The finished product was dynamic and informative, giving the sales staff flexibility when presenting materials to new prospects. iSquared also assisted in the development of Casteel's new website which expanded their online services for existing customers.
770-594-0999
1005 Riverside Trace, Sandy Springs, GA 30358
P. O. Box 1752, Edgewater, MD 21037-1752
e-mail: rustypaul@isquaredcommunications.com
campaign.09
Got a political race this year? | iSquared Communications blends all the tools of modern marketing with the proven campaign techniques used in high-budget national races to develop cost-effective, highly successful campaigns for Republican down ballot statewide, legislative and local races.
CAMPAIGN MANAGEMENT | VIEW CAMPAIGN PORTFOLIO
portfolio v5.0
Flash-based Portfolio 5.0 | Looking for a complete-services company to meet all of your marketing needs? Several recent examples from our graphic design department are available online. Adobe Flash Player required for viewing. A high-bandwidth connection preferable.
VIEW i2.portfoliov5.0 | DOWNLOAD FLASH PLAYER